Image
The Most Reliable Pest Control in Dyersburg
For 65+ years, the exterminators at HTP have provided top-of-the-line pest control to the residents of Dyersburg, TN. Learn more about our services today!
What kind of problem are you having? Select all that apply.
Pest Control in Dyersburg
Keeping pests out of your home can be tricky, but it doesn't need to be. When you partner with HTP for pest control in Dyersburg, we will get pests out and keep them out for good! Our exterminators are focused on eliminating pests and providing quality pest control options, in a friendly and customer-focused manner.
Pests such as insects and rodents find a multitude of ways to enter your home. A few examples of how they make their way inside include:
Through cracks in the foundation and exterior walls
Through torn screens
Down chimneys
Through holes in the roofline
Through spaces found around windows and doors
Image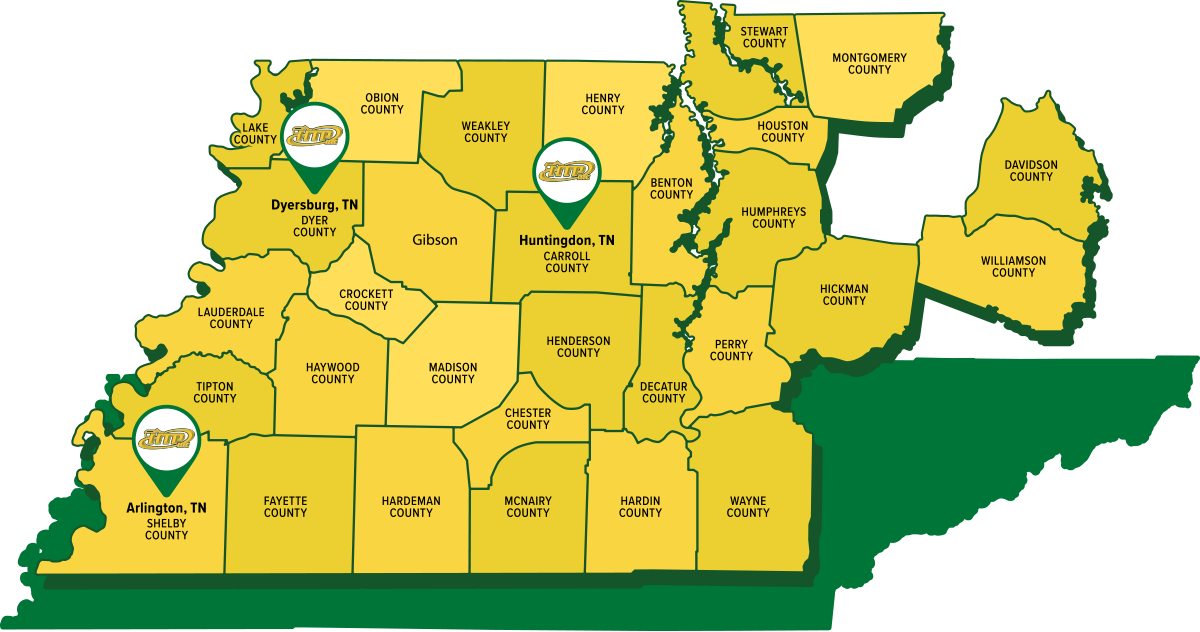 Termite Treatment in Dyersburg
The subterranean termite is the bane of just about any homeowner's existence. These destructive, burrowing pests are difficult to detect and can cause major damage to your home if left untreated. At HTP, we stop all varieties of termites in their tracks! DIY termite control is a frustrating dead-end that normally leads to expensive damage to your home, and just as many termites as when you started. Spare yourself the headache and invest in our professional termite control!
At HTP, our Termite Control in Dyersburg includes:
A thorough termite inspection from a licensed termite exterminator. 
Available active and preventative treatments based on your needs. 
The top-of-the-line Sentricon termite baiting system with Always Active Technology.
Annual maintenance and monitoring. 
And more!
Save $100 on Termite Treatment
Eco-Friendly Termite Treatment in Dyersburg
With the most advanced termite monitoring and baiting system on the market, to green products and methods, our team at HTP is dedicated to providing eco-friendly service. A termite-free home shouldn't come at the price of exposing your loved ones to dangerous chemicals or harming your local environment. Make the environmentally sound choice today and still get the clean home that you deserve!
Bed Bug Treatment in Dyersburg
If you keep waking up with itchy bites or tiny blood spots on your sheets there's a good chance you have bed bugs. These insects are notorious hitch-hikers who hide in the crevices of clothes, luggage, furniture, and more to make their way into your home. Once they have invaded your home, they wait until you're asleep to spread out and begin multiplying. Their small size and sneaky habits can make bed bug control near impossible on your own. Our team at HTP is dedicated to providing you with professional bed bug treatment in Dyersburg to help you sleep soundly without fear of pests. 
Guaranteed Relief from Bed Bugs
Our bed bug control in Dyersburg is simple and effective. We begin with a comprehensive bed bug inspection to determine if bed bugs are the root of the problem and figure out where they are hiding. We then provide treatment backed by our 30-day guarantee, meaning we'll re-treat at no additional cost if bed bugs return within the 30-day window.
Mosquito Control in Dyersburg
Some of your family's best memories are made in your backyard. The warmer months are perfect for picnics, barbecues, playdates, and outdoor games. Unfortunately, warmer weather also means mosquitoes, and your family is on the menu. Clouds of buzzing, biting mosquitoes are more than an annoyance! These blood-sucking insects also present a major health risk to your loved ones. Mosquitoes are capable of transmitting many serious illnesses, including: 
West Nile 
Zika viruses
Dengue Fever
Malaria
and Encephalitis
If mosquitoes are threatening your family fun, relying on toxic sprays and citronella candles will only foul the air and provide short-term relief. To effectively control these pests, you need a reliable mosquito control company to stop mosquitoes at the source. With 65 years of experience, HTP Termite & Pest Control has the training and knowledge to give you the pest-free yard you deserve.
Convenient, Effective Mosquito Treatments
Whether you need a one-time mosquito treatment or ongoing treatments as part of our pest control plan, HTP technicians target mosquitoes where they live and breed. Our fogger application gets rid of mosquitoes hiding in non-blooming shrubs and around patios and decks where your family spends time relaxing, while our granular product kills mosquito larvae at the source. With same-day servicing and no hidden fees, our mosquito control services keep your convenience in mind.
Rodent Control in Dyersburg
We know how stressful it is to find rats or mice in your home, which is why we've made our rodent control in Dyersburg as hassle-free as possible. Our exterminators never have any hidden fees, offer organic treatment options, and back our services with a satisfaction guarantee. It doesn't get easier than that! Whether rodents are inside wall voids, under appliances, in the attic, or somewhere in between, our rat exterminators have you covered.
When you partner with us for Dyersburg rodent control, we will
Carefully inspect your home

to look for signs of an infestation.

Determine where rodents are hiding and create a

custom treatment plan.

Strategically place bait stations

out of reach from kids and pets.

Go over recurring service options to

prevent future pest problems

from happening.

Give you our

30-day guarantee

, which includes free re-treatments.
Our Guarantee
Should pests persist in between scheduled treatments, simply let us know and we'll re-service your home for no additional cost to you. That's our guarantee to you!
Image